This tutorial will show you how to have a real better music (audio) quality from your computer.
By default, windows will take the audio from your mediaplayer (for example: windows media player, winamp, kmplayer, VLC...those are the program to open your mp3, videos..) and then process that audio by its component called
kmixer
. After that, the processed audio will finally go to your soundcard (all pc/laptop has a built in soundcard already, don't worry about this term).
From that you will see that the audio you finally listen to is not what your soundcard really produces. Many people buy expensive sound card (with which you could replace the default soundcard on the mainboard of you pc/laptop) to have better audio quality. But they don't really enjoy the true power of the soundcard.
No matter what soundcard you have. This tutorial will bring you a better  music quality by not letting windows intervene to the audio processing. Please follow these steps:
Step1
: To bypass kmixer, we need a software called Reclock (free from Slysoft). You can download it from the software page:
https://forum.slysoft.com/threads/reclock-1-8-8-5.63521/
* Download and Install it
Step2:
Configure the parameters:
Once installation finish, open
Reclock
(the clock icon on your desktop) and you will see something like the picture below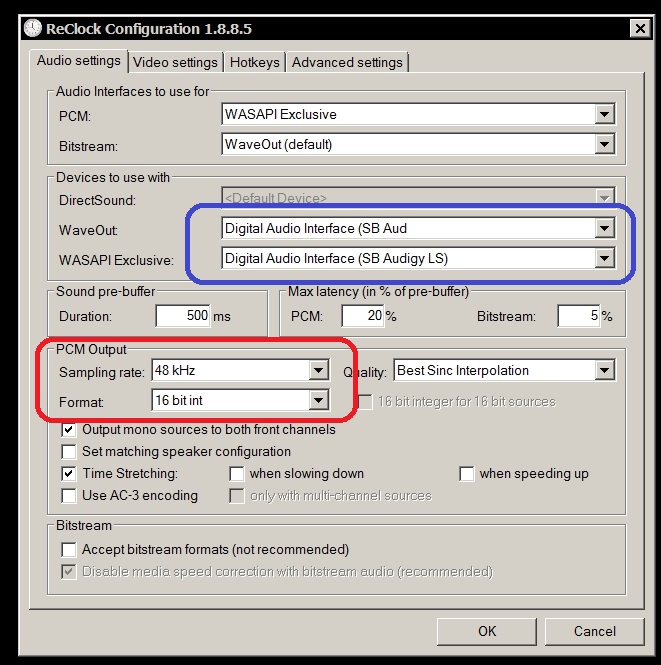 * For the first 2 boxes:
Set as
Wasapi Exclusive
and
Wave Out* For the Blue rectangular
: Please choose your
sound card
from the list (do not set the default option). Normally, it has a name: for example Reatek...Audigy..or any. it depends on your PC. For my PC it is audigy so I choose audigy
* For the
Red
rectangular: This will define the quality of the Output music (the music you will enjoy). For this you need to see the maximum quality of music that your soundcard support. Very simple: follow this picture below
+ Right click the Speaker icon and follow the picture. The red area is the information you need (in
Advanced
Tab). So I have for my PC is 16 bit, 48000hz (=48khz). So I use these 2 parameters to fill the Red rectangular of the
Above Picture.
Also choose:
Best Sinc Interpolation
for the box
nex to that red
rectangular ok.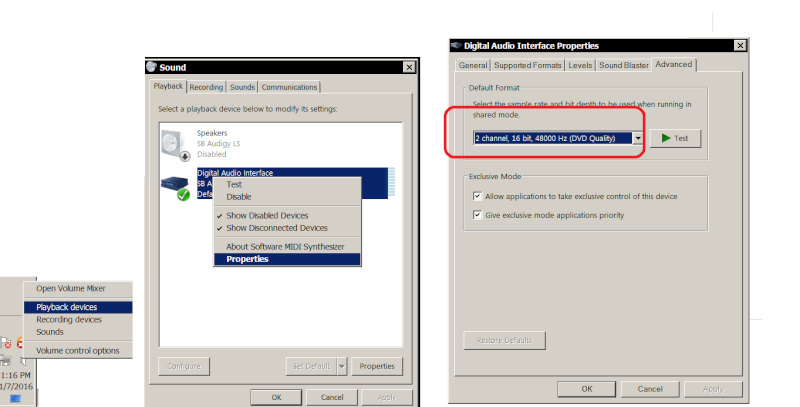 * After that: click on
OK
 (on Reclock setting) to save settings
___________________________________________
DONE! please close RECLOCK and Play any music or go to a paltalk room and you will see that how better your music is. Also, when you play music in the room. Your sound is very much better.
I have did it for our
Trivia Cafe Vocabulary
room.
Cafe Lounge
Admin




Posts

: 70


Join date

: 2015-11-28



Similar topics
---
Permissions in this forum:
You
cannot
reply to topics in this forum